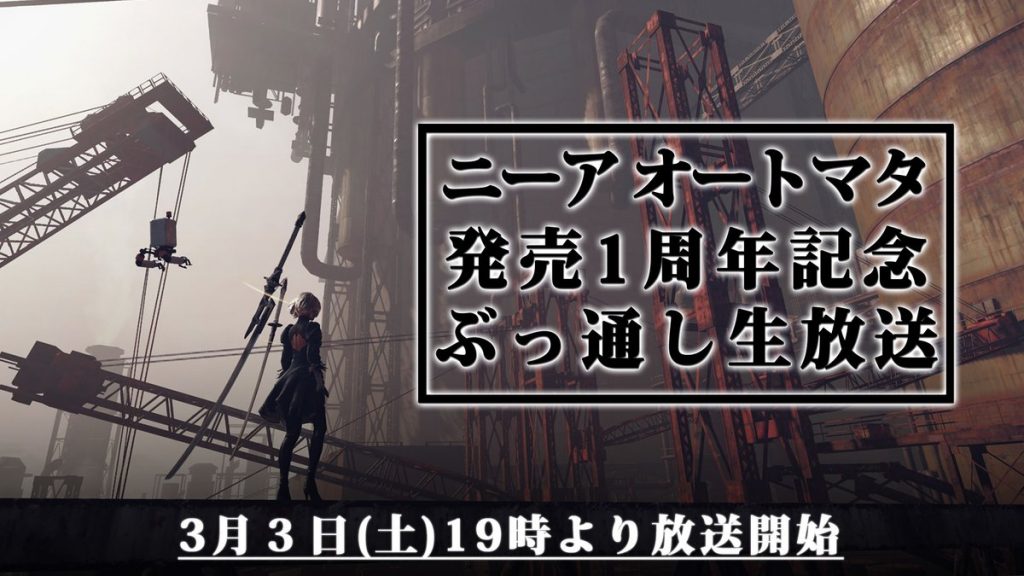 More details regarding the continuous, two-day celebration for the NieR:Automata 1st anniversary have been released. The broadcast will be broadcast from 7:00pm on Sunday, March 3 until sometime after 7:00pm on Sunday, March 4.
They said they intend to livestream the game through the very end… but which ending could they be referring to, I wonder?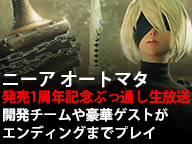 Watch the show live on NicoNico here!
Check below for the tentative list of those who are scheduled to appear!
Saturday, March 3
7:00pm~
Saito Yosuke (Producer)
Yoko Taro (Director)
Taura Takahisa (Game Designer: Platinum Games)
Matsushita Yoshikaze (Yoshi) (Character Modeler: Platinum Games)
7:15~9:00
Ishikawa Yui (NieR:Automata: 2B; YoRHa Musical: No2)
11:00~
YoRHa Musical
Mochida Chihira (No16)
Hanana Mio (No21)
Maikawa Miyako (Commander)
Tachibana An (Anemone)
Sunday, March 4
3:00am~
YoRHa Boys Stage Play
Saito Naoki (No9)
Murata Hisashi (No21)
Eda Shinichiro (No2)
Doi Yuuto (No6)
7:00am~
Matsushima Hatsune (Talent)
…among others
11:00~
Saito Yosuke (Producer)
Ushizawa (Game Let's Player)
3:00pm~
Takahisa Taura (Game Designer: Platinum Games)
Matsudaira Hito (Character Modeler: Platinum Games)
Yasumoto Hiroki (Pod042)
7:00pm~
Saito Yosuke (Producer)
Yoko Taro (Director)
Okabe Keiichi (Composer)
Taura Takahisa (Game Designer: Platinum Games)
…among others