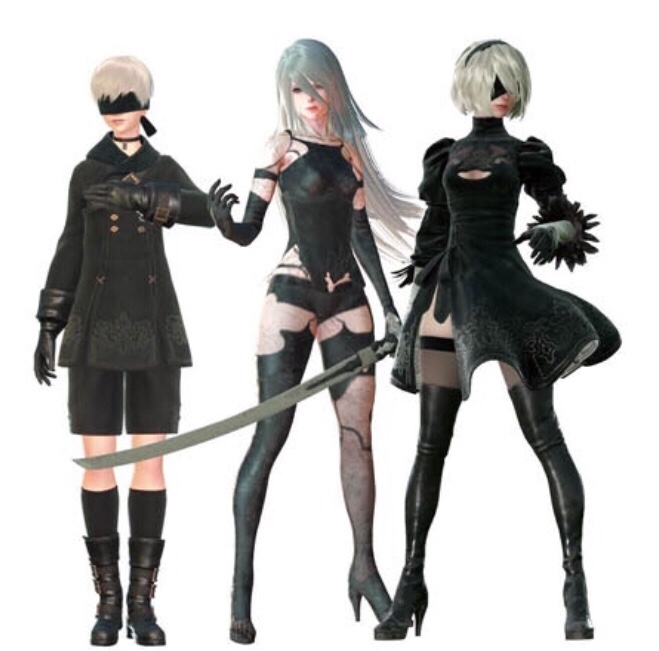 Famitsu recently sent out a questionnaire to international fans of NieR:Automata, and here's a compilation of the comments that were chosen and printed in this week's issue of Famitsu magazine, No.1531
I thought maybe I saw a comment that I made but…alas. lol Maybe they recognized my name and don't consider me as "international" since I live in Japan. orz I'll have to complain to Sugihara-san. lol J/K
---
[PlayerQuestionnaire]
The best part about NieR:Automata
Total number of unique users: 3856
Multiple answers possible.
Gameplay: 3085
Story: 3562
Art: 3008
Music: 3399
Other: 397
[Breakdown of Voters]
Total participants: 3856
Male: 3309
Female: 461
Other: 63
No Answer: 23
[Age]
10s: 417
20s: 2531
30s: 814
40s: 83
[Location]
North America: 1964
Europe: 1290
Asia: 227
South America: 193
Oceania: 154
Africa: 16
The twists on the above aspects were so clever and unique. ーJohn M (20 / M / Europe)
PlatinumGames creates very exciting and fun to play combat. Yoko Taro's stories are always so interesting and compelling. The style of NieR:Automata is so different from American games, and the music of NieR games are on a whole other level above most American games. ーMichael Coleman (30 / M / North America)
Everything is excellent. What I love the most, though, it's the way in which it usese every single feature of videogames as a mean to enhance the narrative. I've particularly enjoyed the moment when you cannot read the options menu because of the missing chip, or at the end, when 2B/A2 are damaged and it reflicts on the screen. ーLontrain (20 / F / Europe)
Everything was so unique and unusual. ーMsg (30 / M / North America)
The only thing missing from mosst of Yoko Taro's games was polished gameplay, and PlatinumGames delivered wonderfully in that area. I also love the work of Akihiko Yoshida, so getting to see his designs in a Yoko Taro work was a welcome surprise. Keiichi Okabe's musical work continues to be some of my favorite in the industry, as well as Emi Evans' vocals. ーMimi (20 / Other / North America)
The weapon stories were an interesting way of providing some information about the world, and it was helpful because I've never played the first Nier or Drag-on Dragoon. ーAndrew (30 / M / North America)
Every aspect of this game was thoroughly considered. ーkstor (20 / M / South America)
The gameplay was fun, the music was amazing, I loved the story, 2B is really cool. ーMike Parks (30 / M / North America)
The hacking 8-bits parts were genius too! Especially with those 8-bits musics! ーTin (30 / M / Europe)
Parce que aucun jeu n'est comme lui. Et pour l'émotion qu'il apporte. (There is no other game like it. Especially the emotion it brings) ーCharles (30 / M / Europe)
Everything! Fantastic gameplay. Amazing story. Beautiful music. ーPhreakar (30 / M / America)
What a great example of Japanese gaming culture! Fast paced, energetic, sexy, funny, sad, touching, entertaining as hell. Great game! ーTobi (20 / M / Europe)
Yoko Taro's "madness" is a very interesting phenomenon of videogame industry. NieR:Automata is no exception. ーDarkV (20 / M / Europe)
This game made me think about my existance in this world. Damn you Yoko Taro. ーShadi (20 / M / North America)
2B'S BIG BUTT ーKale Cahoon (20 / M / North America) *multiple duplecate comments
The story, the music. Most importantly 2B FTW! ーMaherTRY (20 / M / Asia)
Unique gameplay elements that can go from action to 2D shoot 'em up. The story is also interesting where it tried to explore what makes the androids individual beings. ーBuga (30 / M / Asia)
The music in this game is a masterpiece, I never heard any game that have this amazing music before in my life. ーHammerTank (20 / M / Asia)
Yui Ishikawa is fantastic in this game, also the combat is great. ーKi'oon (20 / M / Europe)
The Japanese voice actors' performances of the script was fantastic. ーgrace (20 / F / Asia)
Interesting side quests. ー4yvak (20 / M / Europe)
Romeos and Juliets. ーNir (10 / M / Asia)
Emil! ーTiffany (20 / F / North America)
Yoko Taro is a mad genius. ーPandorise (20 / F / North America)
The music and story is very powerful and sad. ーBeau (20 / M / Oceania)
The Atmosphere. It's perfect in this game. ーMakoEyes (30 / M / Europe)
---
◼︎ Who's your favorite Main Character?
[2B]
She is a strong and complex character. ーZMangz (20 / M / North America)
Her development, her personality. I got her tattooed on my leg. haha ーAnonymous (20 / M / Oceania)
2B's story of opening up and becoming more "human" is very touching. ーTrevor (20 / M / North America)
She's my waifu. ーNess (20 / Male / North America)
[9S]
I like his design and character a lot! Hacking was a lot of fun, too. ーRebecca (20 / F / North America)
I love how he degraded from a nice boy into a mad one after losing 2B. ーRebecca (20 / F / North America)
[A2]
I love A2's personality. She reminds me of Kaine from Gestalt. ーBianca (20 / F / North America) *multiple duplicate comments
A2 was very cool and mysterious, which made it more enjoyable to find out about her. I also really liked her interactions with Pod042. ーEll (20 / M / Europe)
---
BECOME AS GODS BECOME AS GODS BECOME AS GODS ーSky (20 / M / America)
The really cool character designs! And the soundtrack was super good, too. ーNave (20 / M / North America)
Crazy story from Yoko Taro, amazing music from Okabe, and awesome gameplay from PlatinumGames. ーAnacra (30 / M / Oceania)
The YoRHa androids' designs are amazingly beautiful, the areas are gorgeous, and the music is so beautiful it brings me to tears. ーVivian (10 / F / Europe)
Yuki Aoi as Pascal. ーPyotr (20 / M / Europe)
As a long time NieR and Drag-on Dragoon fan, it was nice to have some questions from both games answered while expanding the universe I adore. ーPhazonmasher (20 / M / North America)
The ending credits sequence. This was so moving to me, something that could only be done in a video game. How you had to choose to sacrifice everything, but you saw that so many people had sacrificed for you. It was a special moment and speaks to Yoko Taro's genius. ーChristopher Dodge (30 / M / North America)
Everything. I could write endlessly, but here are the most important parts I loved:
The beautiful UI and its inclusion in the game's story
The haunting music, especially the song entitled "Tower"
All the continuity and references to the rest of the NieR and Drakengard universe, especially the first NieR's Popola & Devola, A2's stage play backstory, and Accord
…..
Overall, the most impressive accomplishment of NieR:Automata is that it's a story that could only be experienced in the format of a video game.Aside from being incredibly fun and satisfying to play, every element that makes video games unique is used to its fullest potential to create nothing short of a masterpiece. ーshiina (20 / F / North America) *Due to the length of the comment, the Japanese translation was shortened.
2B's final message to 9S had me in tears. ーJK (20 / M / Europe)
---
◼︎ What's your favorite ending?
#1:  the [E]nd of YoRHa ー 1958
#2:  flowers for m[A]chines ー 418
#3:  childhoo[D]'s end ー 247
#4:  meaningless [C]ode ー 231
#5:  aji wo [K]utta ー 106
The choir version of Weight of the World has a strong, emotional impact. ーbradyonetta (20 / M / Oceania)
Having to choose to sacrifice your whole gamesave to help someone you will never meet, such a brilliant decision. Very moving. ーChristopher Dodge (30 / M / North America)
The integration of the credits with the shooter hacking game and the story was unexpected and wonderful! ーKarasu (40 / M / North America)
I unlocked it by accident and after realization of what I have done I laughed so hard… ーILYA (20 / M / Europe)
Took me off guard, did not expect that a fish would be the end of me. ーNehelichus (20 / M / Europe)
I played the first Nier, so what Emil said during the fight was pretty moving. ーNoleen (20 / M / Europe)