<< This is an early release of the translation. >>
If there are any typos or other mistakes,
these will be corrected in the next day or so.
Thanks for your understanding!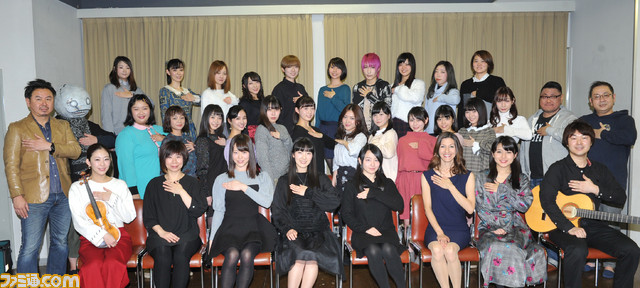 <YoRHa Musical Ver.1.2>
-Today (January 4th) is the first meeting for the "YoRHa Musical Ver.1.2", but as for actual practices…
Matsuda: Practices will start from tomorrow (January 5th). We plan on working on making the play over the course of the next month.
-After this meeting once everyone has had their first look at the script, do you ask the cast what they think about it?
Yoko: No… because I didn't finish it until early this morning!
-Eh!?
Matsuda: I got his E-mail around 2:30 this morning and finished reading it around 6am. (haha)
-I understand there's usually not much time to cover the play, but for the playwright to finish the script just before the first meeting…
Matsuda: It's not all that unusual. Just, the play this time around is on a much larger scale… (voice trails off)
Yoko: SoRRy for making you wait!
-So, you're comment in the end of the year issue of Famitsu, where you said "I haven't finished writing the script," you weren't joking… Since the "YoRHa Musical" is essentially the third run of the stage play, I assume that the fundamental story will remain untouched, but are there any details that have changed?
Yoko: For the previous plays, I wrote the original manuscript but Asakusa Kaoru write the script, but this time I took Asakusa's script and made some edits to it to make it more my style. I ended up taking out a couple characters and creating a new character that Maria Yuriko will be playing.
-A new character!? Judging from her name, it seems like she's a member of the Resistance.
Matsuda: Definitely watch out for that. As I read the script, by removing some of the characters, I think the relationship between characters is much clearer and more fleshed-out… I think it's been improved a lot.
Yoko: The previous versions of the play were set up to be "Girls Theater" where a lot of young girls perform, but this time around, that wasn't necessary any longer, so it wasn't necessary to actively aim for a large cast. I think the number of cast members is appropriate this time.
-Matsuda-san, you worked with Yoko on the previous "YoRHa Stage Play" and "Thou Shalt Not Die –Zero–", but what was your first impression on the "YoRHa Stage Play"?
Matsuda: I remember being really shocked at the setting that required the girls to wear blindfolds. I was like, "they're going to be blindfolded on stage!?" (haha)
Yoko: At the meeting he asked me, "Can't we have them remove the blindfold sometime at some point?" and I was like, "Okay, I guess we can have them take it off somewhere in the middle."
Matsuda: (haha) But I'm glad No2 ***** **** *** at the end. Not only that, but when I saw the release of the game, I was really impressed how well it connects with the play.
Yoko: I'm glad this concept connected so well with the game. That's because I'm good at figuring out how things can fit together as though that was the plan all along.
-From a director's standpoint, what do you think about Yoko's world view?
Matsuda: The setting and details are so finely detailed, I think it makes my job as director much easier. He sets it up in such a logical way that I can just think, "This is like this, and therefore this needs to be like this." It's at these moments that I really think this is the foundation of the "World of Yoko". 
-What do you think when you watch Matsuda-san's directing?
Yoko: During the process of developing a game, I do a lot of directing, but I think Matsuda-san has an amazing talent of utilizing rhythm and the precise timing of sound. Because we work in the same industry I can appreciate his amazing attention to detail. Even with the new musical drama, I was quite surprised with how much of a professional director he is, how he's able to pick certain songs and incorporate them into the play.
 -Is there anything that you feel like you really put your heart into directing this play?
Matsuda: With the previous plays, "NieR:Automata" didn't exist at the time, but now since the game's been released, I think the fans will have a better understanding of the play's world and it will be important for us to draw out the fine details from the game. The impact of live music
Yoko: Not solely drawing from the game, but also accentuating the strong points of a stage performance, I think if we can do that, it'd be great; I would be really grateful. For example, there are certain costume designs that look better on stage, so we needed to change the designs from the game a little bit. I think the costume designs look really great for the play.
Okabe: Costumes were even made for the musical performers; Emi was pleased very much. For the music concert, we discussed what sort of clothing would be appropriate and each individual prepared their own attire for the concert, but this time for the musical, the costumes are all taken care of, so everybody's really excited.
Matsuda: The cast and Yoko were all at the auditions, so I think this new cast is much closer to his original vision for the characters.
Yoko: Last time, I think the young women we casted felt synonymous with the characters, but this time, we've added many people who have their own careers, so I think the play will be much more complete with its slightly different direction. I'm personally very excited to see the differences between the new and old versions of the play.
→ See Also: About my audition to the YoRHa Musical Ver.1.2 ←
-This time since the play is called a "Musical" with live music, I think it will be different from the past concert. Can you tell us anything on this front?
Okabe: The concert "Memory of Dolls" in 2017 included a live recitation drama, but this time the recitation has become a full-fledged theater performance, so I think that will take the spotlight. The play is just now taking shape, but I think the final result will be forged through trial and error.
-So, the general flow is drama―>live performance―>drama?
Matsuda: That's right. The live performances a sort of scene change, choosing specific songs that reflect the feelings of the character.
Yoko: There won't only be live performances but also BGM music that will play from time to time.
Okabe: I think the live performances will greatly enhance the excitement of pivotal moments.
-Yoko-san, was it your wish to make a musical out of this?
Yoko: No, the capacity of the auditorium is much larger than last time, so Matsuda-san said, "I'd like to get our value's worth," and so the word "musical" came out of that discussion.
-Then this didn't originally start out as a musical?
Yoko: No. The concert seemed to be extremely popular, so now I get the feeling that Famitsu wants to fill the remaining seats with a misleading article along the lines of "we want to experience the emotion of the concert one more time!"
-Then I dare to make the headlines! (haha) I believe there are still A seats available. Have you already decided which songs will be performed?
Matsuda: We made the final decision at the last meeting.
-Do you have any plan to perform songs that weren't included in the last concert?
Okabe: I think there's quite a few.
-There were a couple songs made specifically for the previous "YoRHa" stage plays.
Okabe: Yes, there are two songs that were used in the previous two plays, "Normandy" and "Quadalcanal", but this time we plan on arranging them for the musical.
-That's very exciting. Yoko-san, I asked about your desire to make a stage play, but what is it that attracts you to stage performances?
Yoko: With games, we can control everything, but stage performances are live so we can't necessarily control everything about it. I really like how the whole thing feels as though it's alive.
-Lastly, let's hear some enthusiasm for up-coming performances!
Okabe: When I saw last year's concert along with the live recitation dramas, I felt like it exceeded my expectations. I'm really looking forward to the musical, as I'm sure it will also be beyond my imagination. I'll be doing my best to put on a great show for all those who can attend!
Yoko: I finally finished writing the script, so thinking about all I'll have to do now is maybe some minor edits here and there has me feeling quite relieved. If it sounds interesting to you, please come to the show.
Matsuda: I would like to invite you to come and experience the stage version of YoRHa that combines live musical performances with acting and dance routines as well as exciting fighting scenes. I hope to see you there.
---
<YoRHa Boys Ver.1.0>
Story Summary
Automatic Infantry Android, YoRHa
M Squad, an all-male model squadron, was created on a test case basis. The boys trained in a place resembling a school setting. The story begins with the enrollment of the second term students including the main character, No9. New students get acquainted to school life with the aid of their senior models. But then, those who harbor doubts about the YoRHa squad appear…
-How did the "YoRHa Musical Ver.1.2" reading go yesterday?
Yoko: Yesterday, at the script reading, I think I could grasp the atmosphere and got a better feel of each character's personality. I realized that there were some parts to the story that required additional scenes, so I've got more work to do. On the other hand, I actually wrote too much for the "YoRHa Boys" stage play and had to cut out a lot… It was like a game that didn't have a definite length, so I could keep on writing freely without really thinking about it. But a stage play needs to be a certain length, so it was hard to get used to that. I always write like crazy.
-Is it normal for plays to be about 2 hours long?
Tani: There are shows that are 2 hours long, but I think people's general attention span is somewhere between an hour and 40-45 minutes.
-The "YoRHa Boys" stage play is directed by Tani-san. Yoko-san, what is your impression of his direction from what you've seen?
Yoko: Tani-san is also a playwright, so I watched some of the DVDs of plays he worked on and everything had a dark story. There was a story about mental illness, the story of a kidnapped person, a story about trauma and inner psychology, like… really surprisingly dark material.
Tani: (haha)
Yoko: Plus, there is absolutely no salvation from beginning to end, like hellish proportions. (haha) I really wonder if he can direct a poppy play like "YoRHa Boys".
-I find it hard to believe that "YoRHa Boys" will be 'poppy'… As far as a story that has no salvation, I think Yoko-san is notorious that sort of thing. (haha)
Yoko: For the most part, my work has its base in commercial entertainment, whereas Tani-san's work is "real". It's really sick. (haha) If you compare "YoRHa Boys" with some of Tani-san's other work, you'd think the story's rather bright and bubbly. It's like playing.
Tani: No, no no, it's not. (haha)
-Have you completed the script for "YoRHa Boys"? I heard you just finished the musical script yesterday, so…
Tani: What!? Yesterday? (haha)
Yoko: I finished writing "YoRHa Boys" at the end of the year!
-Tani-san, I assume you've been able to read the script. What is your impression?
Tani: It was really good. Especially halfway through, I found myself thoroughly engrossed in it. The ending is quite to my liking; I read it excitedly while on the train.
Yoko: This time I'm depicting a sort of prequel that connects with the game, but in terms of the "YoRHa Musical", I feel like the content in this stage play pairs well with the musical. I was actually thinking about using the same script as the musical and just gender bending all the characters, but I thought it would be better to do something original, so I thought up something new. Merely, the theme and the frame of the stories are similar, so please look forward to picking out the differences.
-So, there's something extra we can enjoy if we go see both of the plays? Hearing that, does it make you more curious about the "YoRHa Musical"?
Tani: The "YoRHa Boys" stage play has its own color, so I'm not all that concerned about the musical.
-What about the music in "YoRHa Boys"?
Yoko: Unlike the musical, Okabe-san doesn't need to do anything, so he's just hanging out. He didn't even need to be here today.
Okabe: I didn't hear about the meeting today until yesterday; he was like, "Can you come tomorrow?" (haha) I guess that's about how it's done. (haha)
-Then is Tani-san choosing what songs to use?
Okabe: Yes, that's right. I believe we're focusing on music from "NieR:Automata". However, there are many quiet  and scaled themes from "NieR:Automata" so we may use more songs from "Drakengard" if a scene requires something more ferocious.
Yoko: Regarding the music, nothing has been decided yet, so I believe Okabe-san's going to double check the themes that Tani-san assigns to various scenes.
Okabe: I heard that we're going to use the two theme songs from the musical, "Normandy" and "Guadalcanal", but even that hasn't been finalized yet. (haha) At the script reading yesterday for the musical, it became apparent that we really needed to include those two themes, so we may decide something similar at the reading for "YoRHa Boys" as well.
-I think a lot of "NieR" fans are excited about this play since it's a completely original work, but could you tease a little something about it?
Okabe: Hardly anything about it has been decided yet, so there's not much I can say. (haha) So, can I talk about something a little off-topic? Yoko-san and I have known each other for a long time, and ever since those bygone days, he's continually said things like "handsome people must die". More recently, with "NieR:Automata", Taura is a good-looking guy. Tani-san is young and good-looking as well. And of course the cast of "YoRHa Boys" are all good-looking, so with this play, I've come to realize that Yoko-san has a strange way of drawing good-looking people closer to him, contrary to his own thoughts. (haha)
Yoko: Once "YoRHa Boys" wraps, I think all the good-looking guys, including Tani-san, should succumb to instant death.
-That's extreme. (haha) I bet the cast members who read this interview will be shocked. (haha)
Yoko: If this is included in the article, I think the person who writes this is a bit crazy, too.
-If you say so, I think it's probably accurate. (haha) Can you give a brief comment that we can use in this article?
Yoko: I think it's symbolic that the world of YoRHa begins with a stage play, continues on in the game and the recitation dramas, and finally ends with yet another stage play. I'm honestly very happy.
-Finally, Tani-san, if you could please cleanly conclude the discussion.
Tani: I'm Tani, and I will die. (haha) While treating the world view very carefully, perhaps you could say there's meaning in my participation as director? I think Yoko-san will make some edits if I go a little too far, so I will challenge myself until the very end. Just like the characters in the play, I, too, will struggle and suffer, even cough up blood as I try best to make this a great play. The rest of the cast and staff have such overwhelming skill, I want to follow their lead. Thanks a lot.
-During your introduction at the first meeting, you said you wanted to make a play that doesn't lie. What did you mean by that?
Tani: Stage plays are fiction, essentially a lie, so I have this theory that if I tell an additional lie, it's all over. Do not lie in that world view; everything you show must be the truth. For the stage, I think only if you go to this length, the audience will come to see the show. I hope that "YoRHa Boys" will be such a play.
---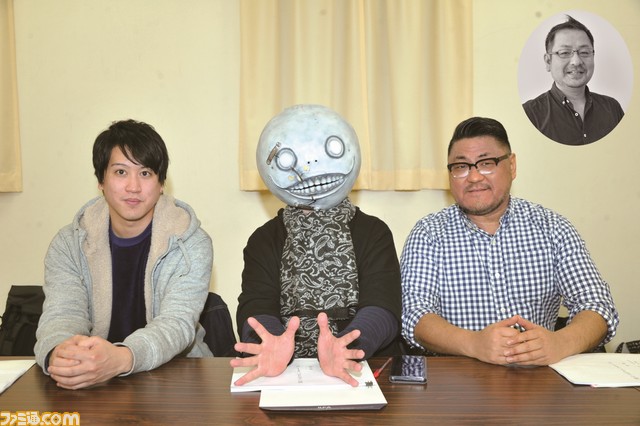 ▲ (Left to Right) Tani Aoto, Yoko Taro, Okabe Keiichi, Saito Yosuke
<A message from Saito Yosuke>
Although, he normally doesn't come out and say "I want to do that!", all through the development of Automata, Yoko-san was constantly talking about how much he wants to do a stage play. Now that his dream is coming true, I think it will certainly be interesting. I'm thoroughly looking forward to it, too, since a major theme deals so much with humanity even though our characters are androids. So, to everyone who comes to the show or watches it on NicoNico, I hope you will pay close attention to the great actors and the unique characters they play. For the musical, it's pretty rare to get the chance to hear a live performance from Okabe's group helmed by "Okabe of the World". It would be great if you could come see the show with the feeling as though this might be your last chance.
---
Source: Famitsu
Translation by: Fire Sanctuary